Every year Gracious Living decorates the showroom for Christmas, selling a fine array of bespoke decorations made in-house, as well as curated schemes of baubles, wreaths, centrepieces and giftware. Our interior designers take pride in sourcing and decorating for each year's theme. Keep an eye out for the front windows as the end of the year approaches – each Christmas is bigger than the last!
Currently in our Christmas offering are the following designs.
Handmade by our talented director, Sue Davies, these giant Christmas baubles make an elegant statement. Each unique, and available in decadent velvets and trims. Hang a grouping above your mantel, dining table, in the corner of your living room, or rest one on a wreath.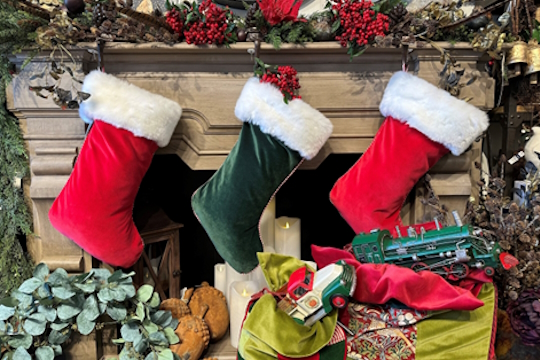 A firm favourite with Gracious Living clients, the traditional Santa stocking. Trimmed with a faux fur cuff, and made in a variety of velvets and piping, these look very festive hanging from a fireplace, or tucked under the Christmas tree.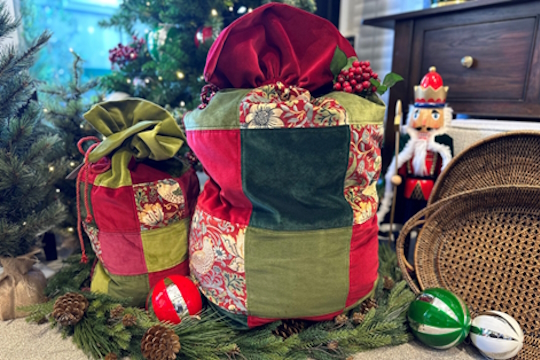 One of the first additions to the Gracious Living Christmas range. Available in two sizes, medium and large, these patchwork velvet Santa sacks can hold generous amounts of presents. Many clients opt to take their bags to an embroiderer, to be personalised with monograms or children's names.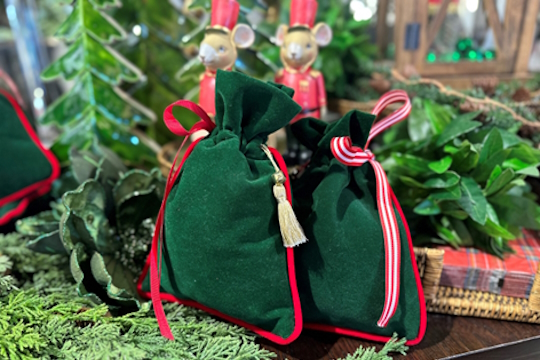 Born out of a lack of Christmas crackers, our mini gift bags can be used for smaller, precious presents or as reusable crackers at the Christmas dinner table. Complete with a bow and bell, and available in various Christmas colours and fabrics.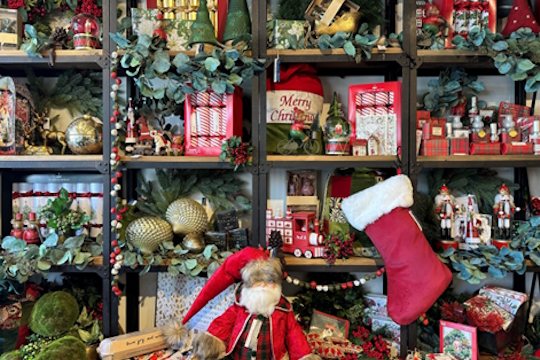 In amongst our own Christmas designs, we offer a wide variety of festive decorations: trees, baubles, centrepieces, nutcrackers, Christmas crackers, gifts, cards, plus an abundance of foliage, including wreaths, garlands, picks and berries.